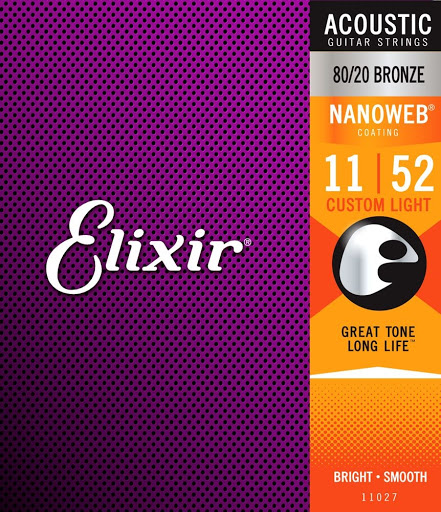 ราคา:580.00  บาท
ข้อมูลสินค้า
MADE IN USA
America's #1 acoustic guitar string,
Elixir Strings,
provide playability and long lasting tone that top artists worldwide depend upon! These Elixir Strings capture the sweet spot of that unique phosphor bronze tone.

Every time you play your guitar,
tiny bits of you are left to invade the windings to contaminate your strings and kill your tone.
Elixir Strings are the only strings that keep dirt out of the windings by coating the entire string.
Our ultra-thin NANOWEB Coating provides a bright, lively tone that players tell us lasts longer than any other string, uncoated or coated.
This means you buy fewer sets of strings,
change them less often and trust your guitar is ready to go whenever you are.
PN Gauge E B G D A E
11002 Extra Light 010 014 023w 030w 039w 047w
11027 Custom Light 011 015 022w 032w 042w 052w
11052 Light 012 016 024w 032w 042w 053w
11077 Light–Medium 012 016 024w 035w 045w 056w
11102 Medium 013 017 026w 035w 045w 056w
โปรดเลือกขนาด: 10-47 11-52 12-53 12-56 13-56