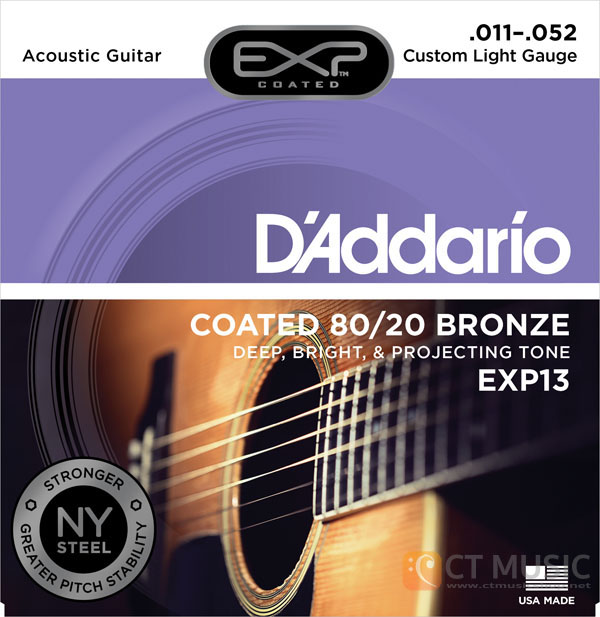 ราคา:450.00  บาท
ข้อมูลสินค้า
made in USA!!
++++++++++++++
NEW!! D'Addario EXP11 Coated 80/20 Bronze with "NY Steel" 12-53
*** สายกีต้าร์รุ่นใหม่ที่มีความแข็งแรงกว่าสายกีต้าร์รุ่นเก่า ทำให้สายขาดยากกว่าปกติครับ และยังคงซึ่งอายุการใช้ที่ยาวนานเช่นเดิม++
+++++++++++++++++++
DescriptionReferred to as Custom Light,
EXP13 strings are a D'Addario original hybrid gauge and a comfortable compromise for players who want the depth and projection of light gauge bottom strings,
but slightly less tension on the high strings for easy bending.

D'Addario EXPs are the most natural-sounding, longest-lasting coated strings available.
EXP Coated Technology starts with the highest quality wrap wire materials, precision drawn and micro-coated on our advanced proprietary machinery. Strings are then wound normally,
delivering tone and feel identical to
D'Addario's world renowned acoustic strings,
with a minimum of 4 times more life.
You won't believe they are coated!

Custom gauging for balance of projecting tone and lighter plain strings for comfortable bendingExtra-bright tone mixed with deep and projecting bottom end,
EXP Coated for 4 times more lifeEnvironmentally friendly,
corrosion resistant packaging for strings that are always fresh
Made in the U.S.A.
for the highest quality and performanceString
Gauges: Plain Steel .011, .015, Bronze Wound .022, .032, .042, .052