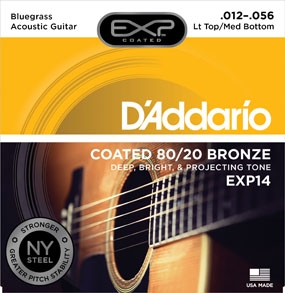 ราคา:450.00  บาท
ข้อมูลสินค้า
+++++++++++++
Made in the USA
++++++++++++++
NEW!! D'Addario EXP11 Coated 80/20 Bronze with "NY Steel" 12-53
*** สายกีต้าร์รุ่นใหม่ที่มีความแข็งแรงกว่าสายกีต้าร์รุ่นเก่า ทำให้สายขาดยากกว่าปกติครับ และยังคงซึ่งอายุการใช้ที่ยาวนานเช่นเดิม++
made in USA!!
++++++
EXP14, a D'Addario 80/20 Bronze hybrid gauge,
combines the medium gauge bottom strings for increased resonance and volume with light gauge top strings for more comfortable playability and single note bending.
A popular choice for bluegrass pickers but suitable for many genres.

D'Addario EXPs are the most natural-sounding, longest-lasting coated strings available. EXP Coated Technology starts with the highest quality wrap wire materials, precision drawn and micro-coated on our advanced proprietary machinery. Strings are then wound normally, delivering tone and feel identical to D'Addario's world renowned acoustic strings, with a minimum of 4 times more life.
You won't believe they are coated!

A D'Addario hybrid gauge, combining medium bottom strings with light top strings. Big sound with comfortable playabilityExtra-bright tone mixed with deep and projecting bottom end, EXP Coated for 4 times more lifeEnvironmentally friendly, corrosion resistant packaging for strings that are always fresh
Made in the U.S.A. for the highest quality and performanceString
+++++++++++++++++++++++++++++++++++
Gauges: Plain Steel .012, .016, Bronze Wound .025, .035, .045, .056