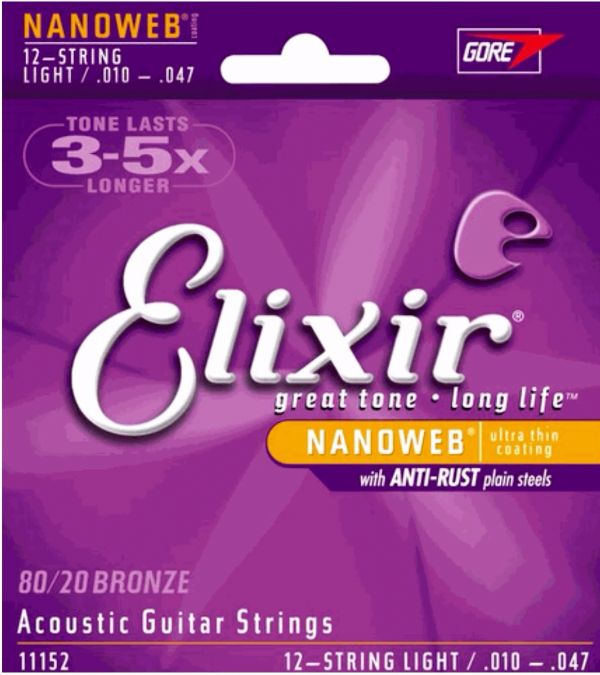 ราคา:990.00  บาท
ข้อมูลสินค้า
America's #1 acoustic guitar string, Elixir Strings, provide playability and long lasting tone that top artists worldwide depend upon! These Elixir Strings capture the sweet spot of that unique phosphor bronze tone.

Every time you play your guitar, tiny bits of you are left to invade the windings to contaminate your strings and kill your tone. Elixir Strings are the only strings that keep dirt out of the windings by coating the entire string. Our ultra-thin NANOWEB Coating provides a bright, lively tone that players tell us lasts longer than any other string, uncoated or coated. This means you buy fewer sets of strings, change them less often and trust your guitar is ready to go whenever you are.

These Elixir strings provide the sound of traditional strings, but with a Nanoweb coating so thin you can barely tell it's there!

"I get very physical with my playing,..that's reason I use Elixir Strings is because they stay in tune and they held up and it's just real clear." – Melissa Ethridge

Elixir's Ultra-thin NANOWEB® Coating on this 80/20 Bronze string gives you a bright, lively tone with the feel of traditional non-coated strings, while lasting 3-5 times longer.

The #1 acoustic guitar string in the US, Elixir Strings doesn't just coat the wrap wire, but coats the entire string preventing corrosion and contamination from accumulating on the surface and in the space between the windings.
11152 Light
.010
.014
.023w
.030w
.039w
.047w
.010
.014
.09
.012
.018
.027w